School is almost over!! (except for my poor nieces, who have year round school....they have to go to school even in JULY. That just seems wrong to me!) I know Teacher Appreciation week was just a few weeks ago, but I always like to send a little something on the last day as well. My kids have always had great teachers, and I like them to know how much
I
appreciate them and how much my kids will miss them. (I doubt the
teachers
have ever made them clean the bathroom or pull weeds). They really do have such an important job and I'm glad someone out there is willing to do it!
Here are a few ideas I have seen online and thought I'd share them with you.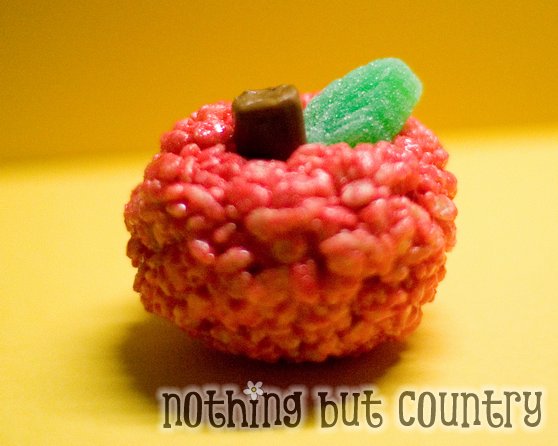 I thought these were so adorable!! And they look yummy. Not only are Rice Krispie treats delicious on their own--but add Strawberry or Cherry flavored Jello and you've got a Treat! ! MMM! So adorable, and the kids could help make these too. Check out
Nothing But Country's
tutorial on how to make these.
Here is a quick and easy treat to thank those special teachers. Perfect to throw together if you're like me and wait until the night before, even though it's been on your to-do list for a week!! Thanks to
Lil' Luna
for sharing the printable for this one.
I would have a hard time being a teacher. I'm sure there are great rewards, but the germs alone just might do me in! Hand Sanitizer is a MUST in these classrooms and check out this cute bottle make-over from
Oopsey Daisy
.
For the past couple of years, I have made the teachers these
Fruit Bouquets
. They were easy and fun to make, if you can find some good fruit for a good deal. (Thank you Costco!)
Thanks to all the great teachers out there! We really, really appreciate
ALL
your hard work.
I'd love to see any ideas you have seen out there--what do you do for your teachers?